Ceramic Pro Sport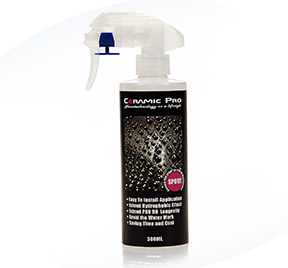 Ceramic Pro Sport is a Maintenance Coating for 9H.
Ceramic Pro Sport is a maintenance coating for Ceramic Pro 9H, the unique formulation of Sport is designed to restore the super-hydrophobic effect of 9H if compromised, the Sport maintenance coating is also suitable if hard water is an issue which can cause water spots, after the vehicle has been washed Sport is applied to the drying towl and wiped on the panel whilst drying, adding even further hydrophobic effect and reducing any possibility of water spotting from hard water or rain water.
Ceramic Pro 9H can only be applied by Approved Applicators.