Ceramic Pro PPF & Vinyl Coating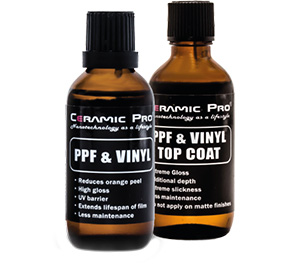 Permanent Nanoceramic Coating for Paint Protection Film & Vinyl Wrap.
Ceramic Pro PPF & Vinyl was designed as a specialized protective coating for polyurethane Fims and vinyls.

It protects films from contaminations, weathering and orange peel effect, providing much easier cleaning of the surface.
The complete Ceramic Pro PPF & Vinyl protection program involves using a base coat and a top coat. Ceramic Pro PPF & Vinyl is the base coat. This is then layered with PPF & Vinyl Top. The final layer is slightly softer than the main base protection coat. This allows for higher gloss and a deep wet look.
Video Presentation - Click Here

Ceramic Pro can only be applied by Approved Applicators.

Ceramic Pro has been officially tested by "SGS" - www.sgs.com SGS is the world's leading inspection, verification, testing and certification company. Results